Compelling Photography for the Lodging Industry
Quality, high definition photography is one of the most important elements in telling your story to potential guests and clients. It's not simply a photo of a room, it's a window into the experience you offer. WowiZowi, located in southern California, travels all over the country to photograph Bed and Breakfast Inns and hotels.
Our Photography Converts Browsers into Guests
We spend the time to understand the experience you offer and to illustrate your property's ambiance by lighting and staging to highlight the fine qualities of your rooms. Our photography conveys a feeling of being there, giving customers the confidence to make a commitment. At WowiZowi we understand how to build your experience into the design of the website to create the best visual impact possible. With our websites, we create the complete story… a story that delivers guests to fill your rooms. And all of the rights to the finished photographs are owned by you.
Bed and Breakfast Photography Hotel Photography
Food Photography
Restaurant Photography
Photo Staging and Design
Photoshop Refinement
---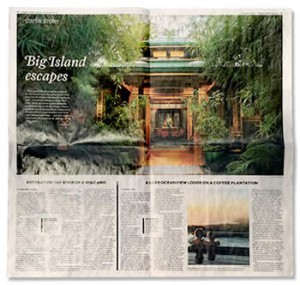 The Media Loves WowiZowi Photography!
San Francisco Chronicle is just one of the major publications* across the country to feature our client's photography. This 2-page spread of Volcano Rainforest Retreat appeared in 2015.
*Including Sunset Magazine, New York Times, and the cover of the CABBI Travel Guide